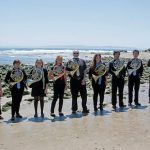 Announcing Undergraduate Scholarships and Awards
The UCSB Horn Studio is offering talent-based Faulkner and Rappleye Scholarships to incoming undergraduate music majors. For students of advanced academic ability, UC Regents Scholarships are also available. The horn professor is Dr. Steven Gross, who is the only full-time horn teacher in the University of California system. In addition, he is the only one who has been a member of a major North American orchestra. This includes the Atlanta Symphony, the National Symphony, and 23 years as Principal horn of the Cincinnati Chamber Orchestra. His solo recordings are available on Summit Records.
Deadline for application is November 30, 2017, with auditions taking place on-campus in January, 2018. Feel free to contact Dr. G at 805-291-9641 or gross@music.ucsb.edu
---
DEGREE OPPORTUNITIES FOR HORN MAJORS
The Horn Studio at the University of California, Santa Barbara, a division of the Music Department in the College of Letters and Science, offers the following degrees for horn majors.
Bachelor of Music in Horn (BM)
Master of Music in Horn Performance (MM)
Doctor of Musical Arts in Horn (DMA) – Contact Professor Gross
SCHOLARSHIP OPPORTUNITIES
There are multiple scholarship opportunities for talented horn players who are accepted into the studio. Unless noted, a separate application is typically not required to be eligible for the following scholarship opportunities.
Bachelor of Music in Horn
Faulkner Awards which may include amounts up to full tuition for California residents, with the equivalent amount applied to non-resident tuition.
Excellence at Entrance Awards (requires separate application).
Regents' Scholarships based primarily on academic merit and emphasis (requires separate application).
Master of Music in Horn Performance
Full Tuition for both California residents and non-residents. This includes a modest stipend.
Doctor of Musical Arts in Horn
Maurice Faulkner Doctoral Horn Fellowship
Centrally Administered Fellowship Opportunities for New Students
AUDITION REQUIREMENTS
Bachelor of Music Degree (BM)
Note: Application deadline is November 30.
UCSB Music Department auditions are held during January, or by arrangement with Dr. Gross. Quality recordings are accepted, although a campus visit is strongly encouraged.
Play two contrasting etudes or solos and an orchestral excerpt of your choice.
Graduate Degrees
The admissions deadline is January 15. All applications, supplemental materials, and test scores must be received by this date if you wish to be considered for admission and financial assistance. Applications received after the deadline will be considered for scholarship only if funds are available. Auditions can be heard throughout January, or earlier.
If NOT applying for financial assistance, graduate application deadlines are as follows:
May 1 of the previous year for the Fall Quarter
November 1 for the Winter Quarter
February 1 for the Spring Quarter
In-person auditions are required for graduate degrees.