Meet the UCSB Horn Studio's 2016-2017 Year Students!
---
Sara Aronson – Graduate Student
---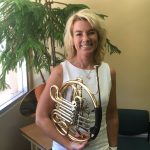 I am Sara Aronson, born in Lund, Sweden.
When I was 19 years old I started at the Royal College of Music in Stockholm and went there for 5 years. At the age of 21 I was hired to work full-time with a wind ensemble so I took one year off from school.
Over the years I have been working at the Royal Opera in Stockholm for a longer period of time. My work experience covers recordings, different shows subbing in the Royal Philharmonics and the Swedish Radio Symphony Orchestra .
The horn studies have been spread out between Stockholm; Denton, Texas (University of North Texas); and Santa Barbara, CA: Music Academy of the West and UCSB. The professors I've been studying with are Ib Lanzky Otto, Sören Hermansson, William Scharnberg, David Krehbiel, and Steven Gross.
---
Kyla Vinson – Undergraduate Student
---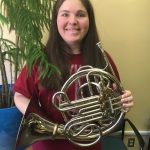 Kyla Vinson is a 4th year Music major from Thousand Oaks, California. She started playing horn at eleven years old under the direction of her middle school band director. She has participated in multiple honor bands during her career, including the Ventura County Honor Band and the Sounds of America Honor Band. In addition to her music studies, she is also a pre-medical student and is planning on being a neurologist.
---
Rachel Sowa – Undergraduate Student
---
Rachel Sowa is a 4th year student in the College of Creative Studies Computer Science Program, with a double minor in Music and German. Originally from the Bay Area, she has been playing horn for 10 years, and piano for 17 years. In addition to horn, she focuses on computer science studies in music and media arts technology. Recent and current projects include building a glove-controlled voice synthesizer, a touch-based keyboard made of ocean rocks coated in conductive paint, and an RGB LED grid for live music visualization. In her free time she enjoys hiking, jamming in a band with her housemates, and reading German literature.
---
Daoji Yang – Undergraduate Student
---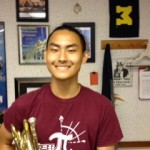 Daoji Yang is a horn player from Beijing, China. He graduated from the music program at Gulliver Preparatory School in Miami, Florida. Daoji is now a member of the Horn Studio at University of California, Santa Barbara. Daoji has also studied with many different horn players including Wang Guan from China Philharmonic Orchestra, Li Changhu from Military Band of the Chinese People's Liberation Army, Richard Todd from the University of Miami, and Steven Gross from the University of California, Santa Barbara.
As an orchestra player, Daoji has performed with the symphonic orchestra of the High School Affiliated to Renmin University of China and the symphonic orchestra of the Gulliver Preparatory School. He has performed at the National Centre for the Performing Arts in Beijing and the Music Center at Strathmore in Maryland. He played the principal horn for the Symphonic Orchestra of Gulliver Preparatory School and won the first place at the 2015 World Strides Heritage Festival held in Maryland, and he was selected to play the principle horn for the festival honor band to play the encore concert at the Music Center of Strathmore.
As a solo and horn ensemble player, Daoji has won many competitions in both China and the United States. Some of his awards includes superior solo award at Beijing Arts Festival in 2009, and the state superior solo award in Florida, and the state superior ensemble award in Florida in 2014. He has also played his solo and ensemble work on the solo concert held at the Gusman Hall at the University of Miami in 2015. Daoji's most-performed solo pieces include Concerto No.1, Op.11 by Richard Strauss, and Concertpiece by Saint-Saëns.
---
Leslie Schlussel – Undergraduate Student
---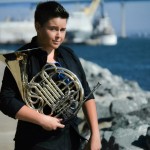 Leslie Schlussel started playing horn when she was 12, and never stopped. She grew up in San Diego, CA, participating in a plethora of ensembles such as marching band, wind ensemble, youth orchestra, Hornswoggle, and woodwind quintet. Some of her favorite memories include performing side-by-side with members of the San Diego Symphony, touring across Europe as part of a concert band, and sharing endless laughs with friends in youth orchestra.  Leslie currently studies horn performance at the University of California, Santa Barbara, planning to perform professionally and educate. She hopes to inspire and reach out to others through music.
---
Amy Winter – Undergraduate Student
---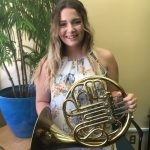 Amy Winter is a first year Performance major. She has been playing the horn for roughly 10 years and studying under her private teacher, Lucy Adams. Prior to attending UCSB, Amy has most recently performed at Carnegie Hall as an alumni member with her junior high director; and performed a solo and toured with the Bakersfield Youth Symphony Orchestra under the conductor Maxim Eshkenazy. Amy hopes to teach privately and be a part of an orchestra or chamber ensembles and attend grad school in the future.
---
Brian Lim – Undergraduate Student
---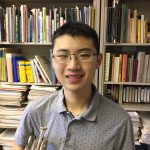 I am a first-year, computer science major from Pleasanton, CA who has always loved playing music. My intended field in computer science is artificial intelligence because I want to create something that can help other people. My hobbies besides playing French horn include Tool-Assisted Speedrunning (TASBot), gaming, and reading comics. I have been playing French horn since 6th grade and have since played on the international stage with my high school band. Music has always been a hobby of mine that acts as a regulator in my life, keeping me true to my schedule and my emotions.
---
Sierra Yarnes – Undergraduate Student
---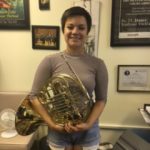 Sierra Yarnes is a student at the University of California, Santa Barbara studying to become a Molecular Biology major. Yet, in addition to her studies, she participates in various classical groups on campus as a Horn player. This is her tenth year playing Horn and, prior to UCSB, she has played principal chair in Crescenta Valley High School's Symphonic Orchestra and Concert Band, and in the Pasadena Youth Symphony Orchestra, playing pieces such as Respighi's Pines of Rome, Tchaikovsky's 1812 Overture, various works by Aaron Copland, Beethoven, and much more. While she is not a music or performance major, or even minor at this point, music has been a vital part of her life for a long time, and she hopes to grow as a musician in these coming years, and always continue to play.
---
Christopher Doi – Undergraduate Student
---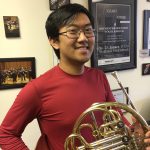 As a Horn player of six years, I can safely say I still have a lot left to learn. Growing up, music was never A Major part of my life and despite playing the trumpet for two years, it wasn't until junior high that I had a concept of what a scale was or what it meant to B Flat or be flat. I did learn how to C Minor nuances in music after reaching high school, but I focused on playing technique and practice instead of working on music theory. I reached second chair in my school's highest band by my junior year and the first chair in the brass ensemble with my playing, which I hope I can do here in college as well. But before that point, I plan on becoming better at theory and truly learning what it means to play horn.
---